The Cadence effect
A book about transforming your life with intentionally productive habits.
Written by Michelle Bondesio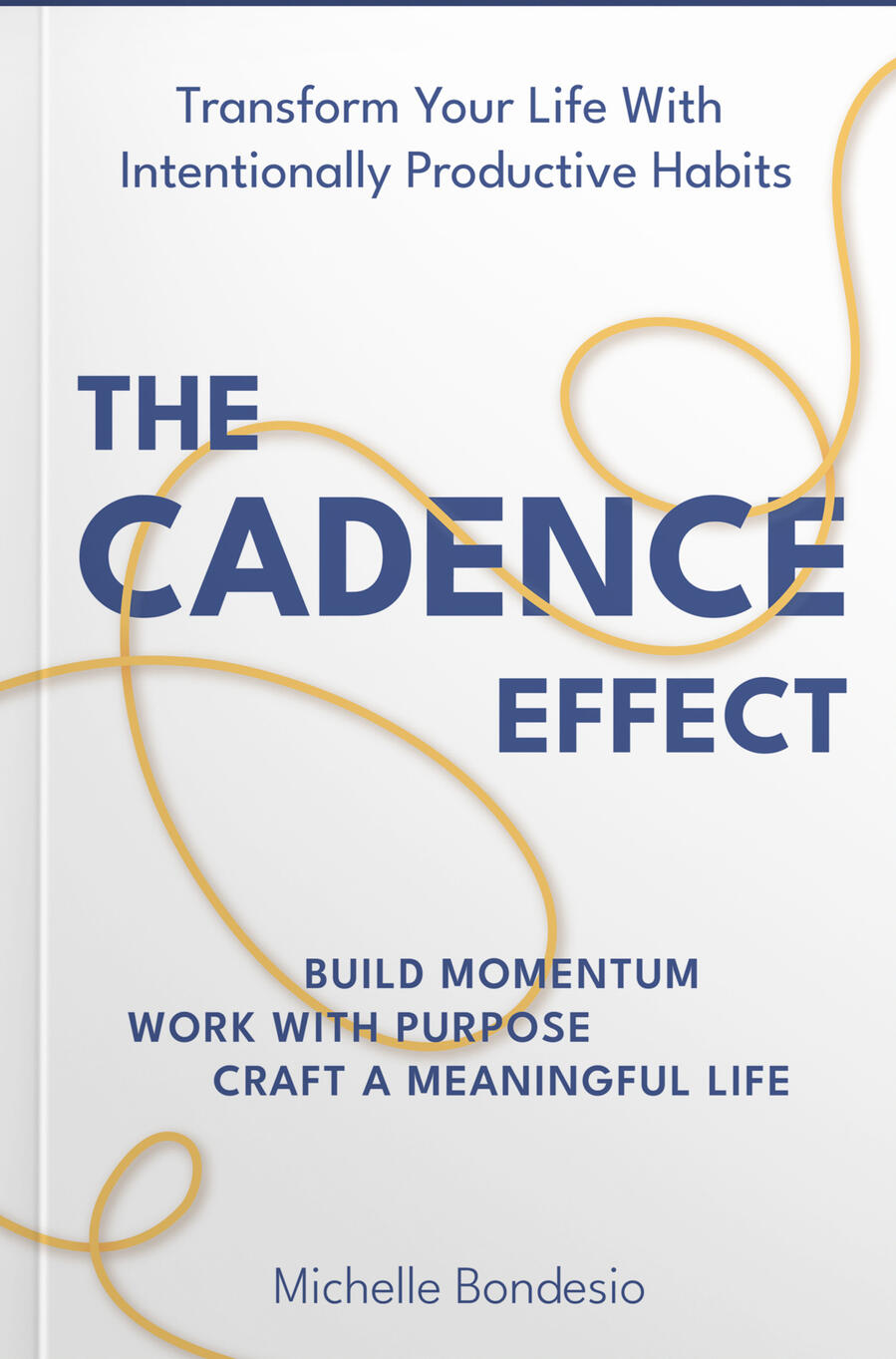 CREATE MOMENTUM
WORK WITH PURPOSE
CRAFT A MEANINGUL LIFEAre you ready to start building the habits that help you create more cadence in your work days and more meaning in your life?
Find the book format that works for you.
PLUS claim your FREE CANVAS CHEAT SHEET, and learn more about the author, Mich Bondesio.
"An insightful, instructive guide and user-friendly roadmap that helps steer us Type A's away from burnout and onto the path of sustainable productivity."
TRUDI ROTH
Writer & Founder, It's The TruStory
Partner, Movement Ventures
---
GET THE PRINT BOOK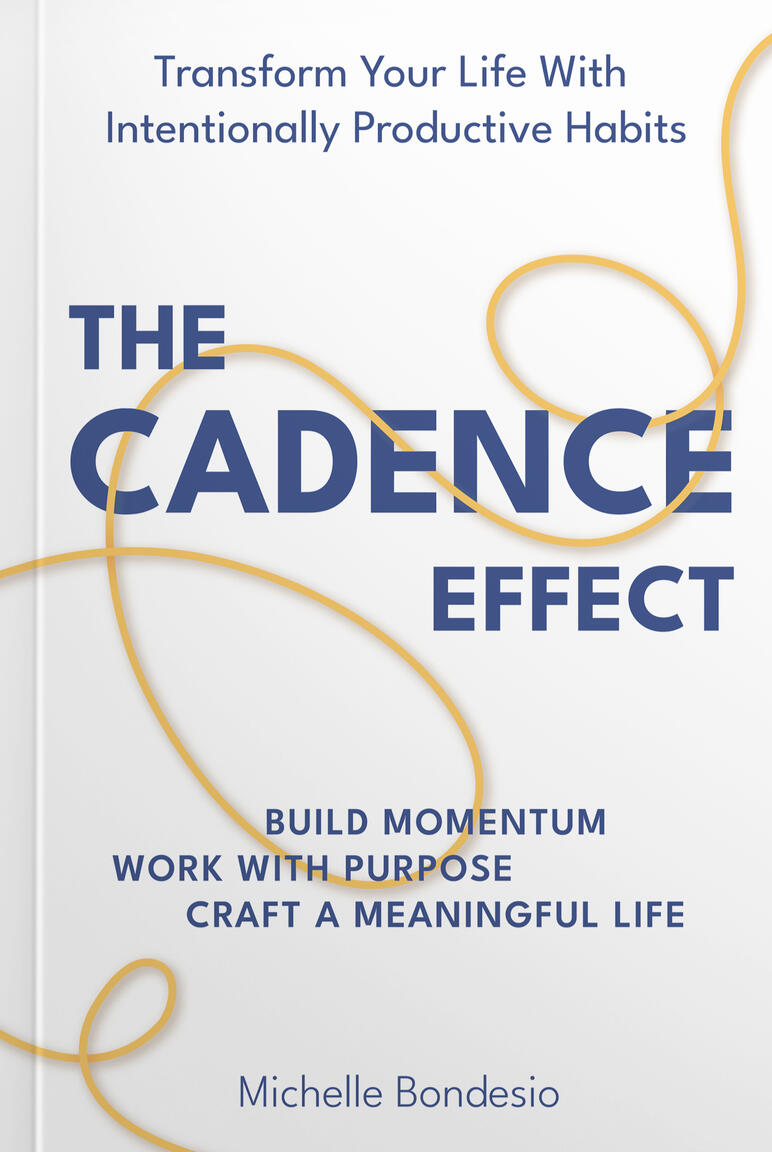 This special edition PRINT BOOK includes 6 hand-drawn illustrations by the author and 4 comprehensive bonus chapters with practical Reflection Exercises.
6x9 Paperback, 28 Chapters, 346 pages
---
"In a busy world of distractions, finding focus is difficult. Mich Bondesio perfectly articulates how these external factors impact our lives, and shares practical and meaningful ways to establish better rhythm and purpose in what we do."
CATARINA KING
Co-Founder, Society1
---
GET THE EBOOK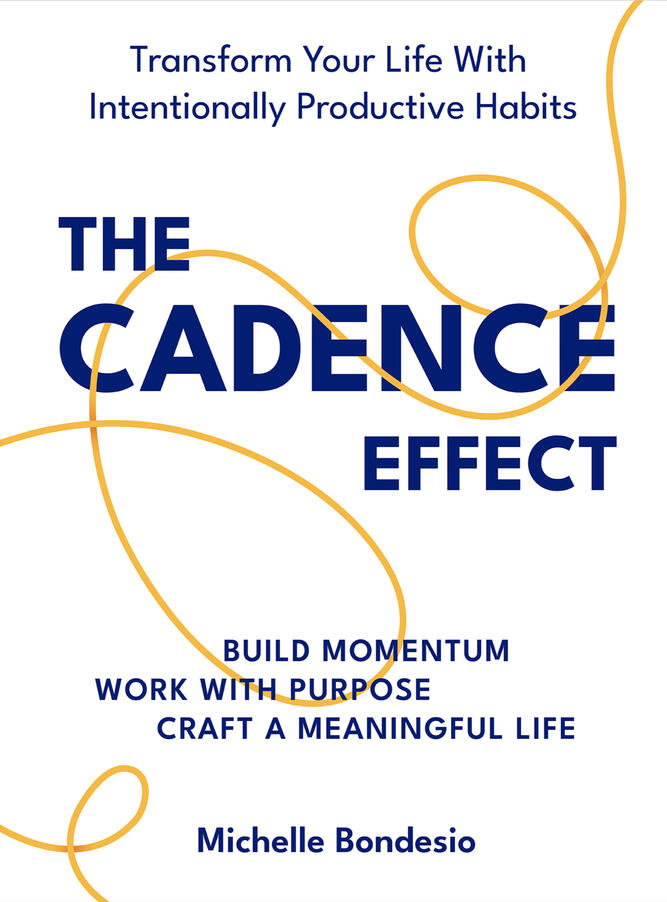 THE CADENCE EFFECT EBOOK excludes the hand-drawn author illustrations and 4 Bonus Reflection Sections. These chapters can be accessed via a separate WORKBOOK resource (see below).EPub, Mobi, PDF, 24 Chapters
Apple, Kobo and more coming soon!
---
"You can't force yourself to be productive. After reading this book, I am feeling more in tune with my mind and body. Terrific thoughts and ideas on ways to be far more productive with less time!"
KELLY BERRY
Founder, Learn Start Grow
---
GET THE WORKBOOK
The CADENCE EFFECT WORKBOOK is a supporting resource to accompany the eBook or Audiobook. It contains practical exercises to help you develop your intentionally productive habits.For ease of use outside of reading / listening devices, the bonus Reflection Exercises from the print book are available to purchase as a separate PDF Download, only available at the Creating Cadence Store.PDF, 35 pages +blank canvas template
---
Get Your Free Bonus Download
THE CADENCE CANVAS™ CHEAT SHEET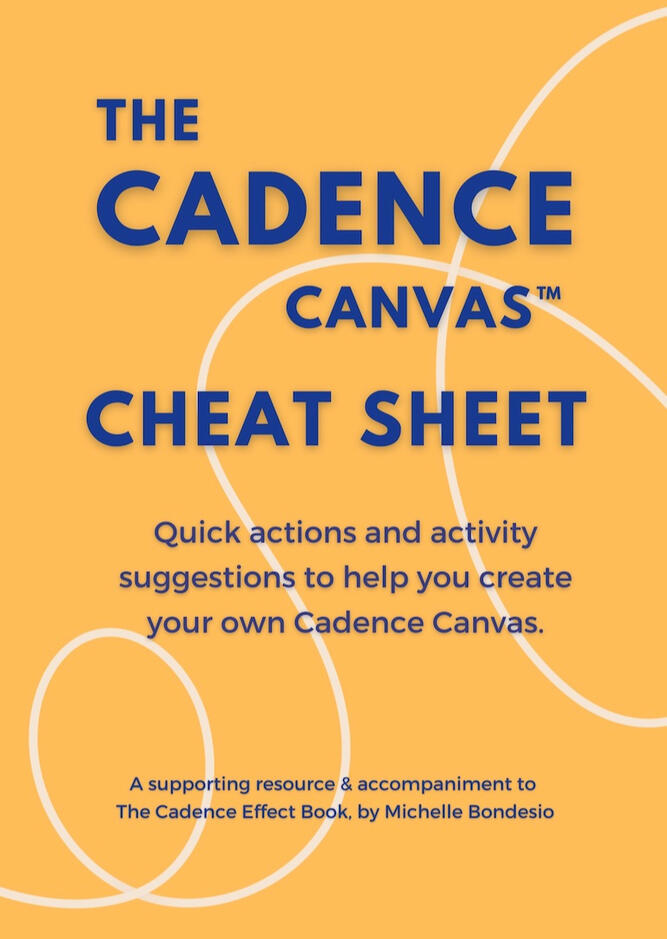 Sign up to the bi-monthly Cadence newsletter and get your free 10-page bonus resource, including a blank Canvas template.
---
ABOUT THE AUTHOR
Mich Bondesio is a writer, speaker, podcaster, coach and entrepreneur with a 20-year background in communications and project management.After an epic burnout experience, she was forced to redesign her life and her approach to work, and she discovered the power of the Cadence Effect.Now she helps other high achievers step off the treadmill of overwork so they can work with purpose, build momentum, and craft more meaningful lives.Find out more about Mich, her work, and the Creating Cadence podcast.
---
Audiobook due out late 2023
The Cadence Effect
Copyright Bondesio Media, 2023
creatingcadence.coBackground Image - Ivan Mercado, Unsplash